The Volkswagen ID. BUZZ marks the return of the iconic VW bus for the next generation. The styling brings back the iconic VW Bus in the form of an electric vehicle. At Bob Penkhus Volkswagen, we are just as excited about the new electric VW bus and can't wait to share these details with you. Let's look closer at the VW ID. Buzz release date, pricing, features and EV range.

View New Inventory


Volkswagen ID. BUZZ Release Date
We first saw the Volkswagen ID. BUZZ at the 2017 North American International Auto Show as a prototype. The production electric VW bus won't be released until 2022. As that time grows closer, we should be able to start the VW ID. BUZZ pre-orders.


Get Updates on the Upcoming Volkswagen ID Buzz
New Volkswagen ID. BUZZ Price
The VW electric bus cost hasn't been announced yet. The VWID.3 released in Europe with a starting price of about $33,000. Seeing that the ID BUZZ is larger, along with making a comeback, the starting price of the new VW bus could be closer to $40,000. We expect to find out more about the exact VW ID BUZZ price closer to the release date.


VW ID. BUZZ Interior Features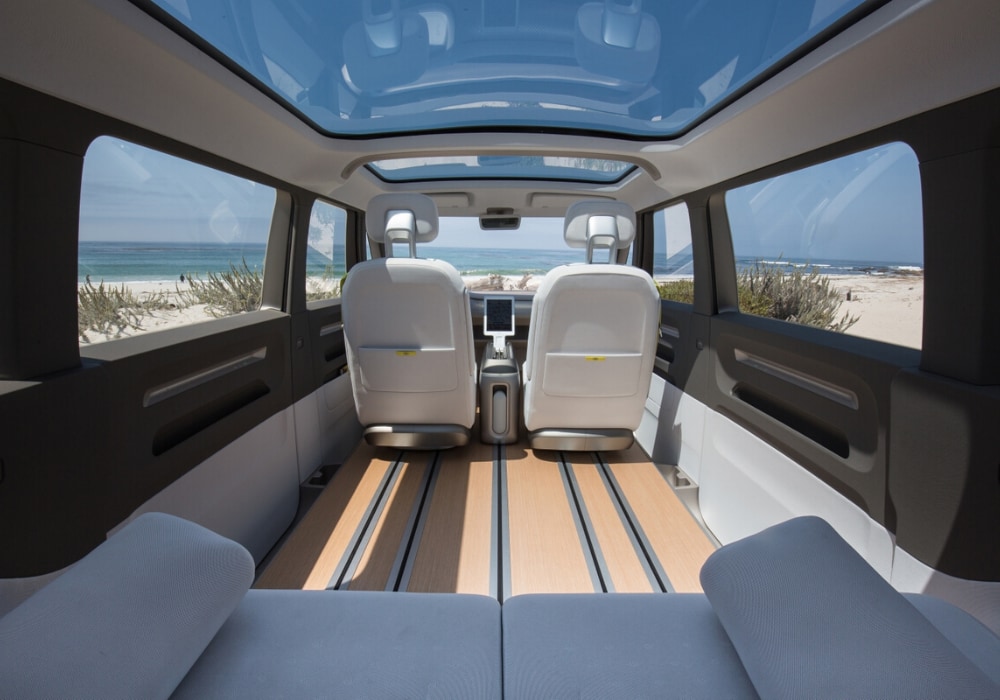 As far as the new VW bus interior, we don't have a lot concrete information yet, other than currently released images show it will be spacious. Even the space that is used will have features that make better use of what's available. Furthermore, the new electric VW bus sits on a 16-foot long frame, so you know there will be plenty of room for both passengers and cargo. The interior shows an upscale, futuristic cabin with a sleek dashboard display and a steering wheel unlike anything the world has seen before.


Volkswagen ID. BUZZ Image Gallery
VW ID. BUZZ Performance Specs
It's possible that Volkswagen might produce two versions of the ID BUZZ. The higher-end option might contain a 275-kW all-wheel-drive (AWD) drivetrain that produces 369 horsepower, while the less expensive model might have a 200-kW rear-wheel-drive (RWD) drivetrain that produces 268 horsepower. These could be the first glimpse at 2 trim levels that could be offered with the new ID BUZZ, or simply an available upgrade option on each ID BUZZ model.


VW ID. BUZZ EV Battery & Range
The VW ID BUZZ range will vary based on the version offered. Current estimations claim to see an EV range from 270 to 340 miles depending on the drivetrain chosen. In addition, this new VW bus can be charged inductively or by a charging station. Expect to receive an 80 percent charge in just 30 minutes with the use of a fast charge system.


New VW ID. BUZZ vs. Old VW MicroBus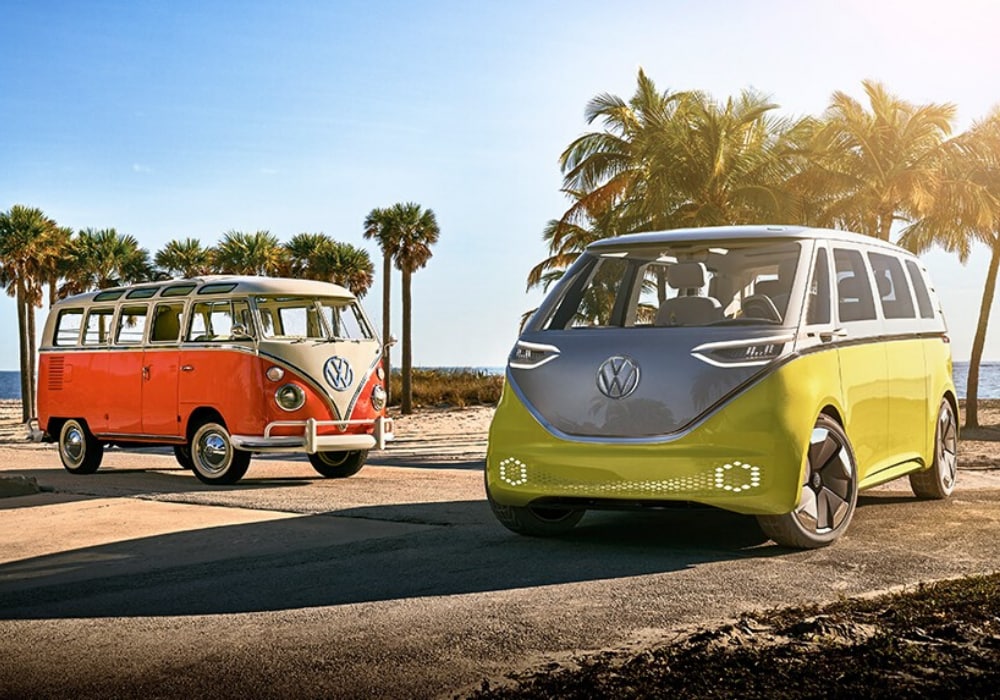 The original VW bus was released in 1950. At that time, the vehicle only produced 30 horsepower. The old VW bus disappeared from the US market in the early 1970s but VW bus models were released in foreign automotive markets until 2013 when the company had to discontinue the lineup because of safety concerns. This VW bus didn't feature anti-lock brakes or airbags. With the comeback of the VW ID BUZZ, we see that the new Volkswagen bus won't just have high-tech safety features, but it could be a leader among electric vehicles, while still offering the same charm and appeal as the original bus from VW. The exterior shape is comparable but other key design elements of the new ID BUZZ show just how far Volkswagen has come in developing better, future-facing, more efficient automobiles.


Volkswagen ID. BUZZ Safety Technology
Considering that the ID BUZZ features a touchscreen system to control the van and technology for autonomous driving, we expect to see many innovative safety features included as well. We aren't sure what driver-assist equipment will be included yet but are sure it will be impressive. The safety concerns that plagued the older VW bus is a thing of the past.


VW ID. BUZZ Exterior Dimensions & Colors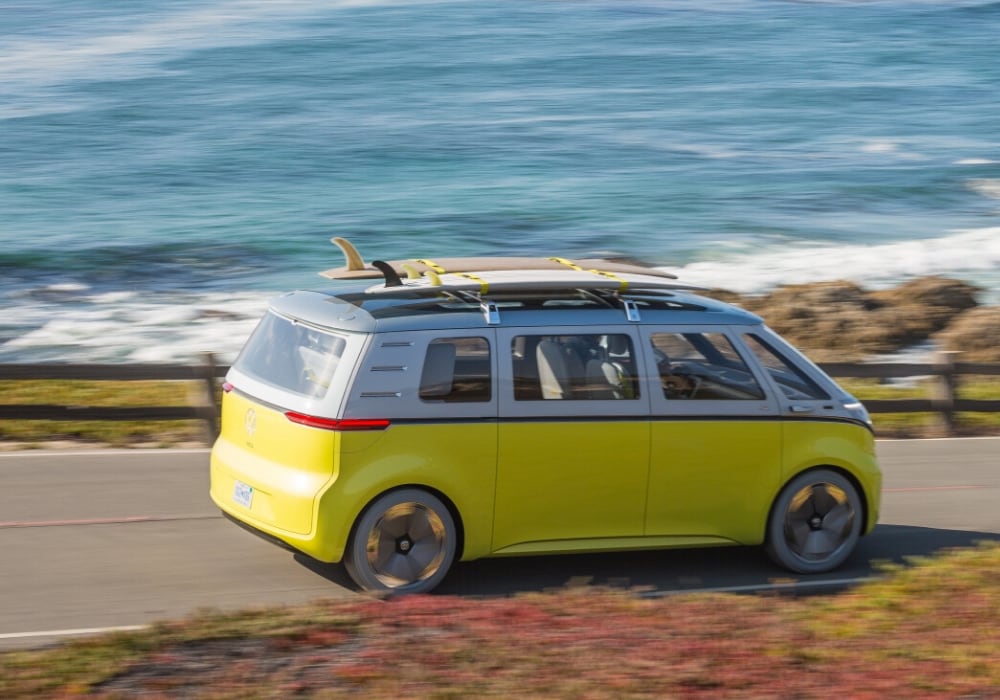 While nothing is set in stone yet, it looks like the new VW ID BUZZ will feature a wheelbase of 130 inches, a length of 195 inches, a width of 78 inches and a height of 77 inches. There is no word yet about what exterior colors we can expect to see; however, we hope to see that yellow-silver duo tone color option available.


VW ID. BUZZ Reviews & Ratings
Among auto enthusiasts, there is a lot of excitement about the new VW ID BUZZ. Gear Junkie says that "people are crazy for it," and Top Gear calls it "a clever piece of design."

View New Inventory


Volkswagen ID. BUZZ Videos