The New ID.3 is VW's First EV for the Masses
Everyone is thrilled to learn more about the new Volkswagen ID.3 here in Colorado Springs (all across the USA and the world for that matter), especially here at Bob Penkhus Volkswagen. This new compact five-door hatchback electric vehicle, originating as a concept car back in 2016, is giving us a taste of the future for electric cars. We will take a look at this Volkswagen EV set for 2020 by examining the price, configurations, EV range, safety, specifications, how the ID.3 differs from the popular VW Golf, and when/if the VW ID.3 will make its way to the USA.

View New Inventory


New Volkswagen ID.3 Reveal & Release Date
The Volkswagen ID.3 will first begin production in November 2019. The ID.3 is the first EV to be built on Volkswagen's new MEB (Modular Electric Toolkit also known as MEB architecture) platform. There are already over 30,000 pre-orders. The first set of deliveries are scheduled for Summer 2020, so look for a public release shortly after that. Still, as of October 2019, we don't expect to see any deliveries in the U.S. If the company does decide to give us this VW EV ID, it wouldn't be until at least sometime in 2021-2022 depending on how popular and well-received the new ID.3 is in Europe. However, there is a higher chance that the new teased VW ID.4 crossover is coming to the United States, but that is all but confirmed as of yet. SUVs and Crossovers are all the craze in the US right now and would fit right into most manufacturers business models. If so, this new VW EV crossover will be based on the I.D. CROZZ Concept vehicle. 
New Volkswagen ID.3 Price
When the Volkswagen ID.3 is released in Europe, it will have a starting price of €30,000 which equals about $33,000 as of Q4 2019. Of course, the cost benefit to Volkswagen EVs is the lack of fuel needed and the cost to the environment from internal combustion engines is completely removed. The savings quickly add up. Currently, there are also substantial tax breaks depending on your location just from owning an electric vehicle which is one of the many benefits to buy one.


2020 VW ID.3 Exterior
The new VW ID.3 exterior looks like a future car. It has a sleek and sporty design that appeals to today's driver with accents and curves that position it as a futuristic design also appealing to forward-looking consumers. This can be seen in the rims, front-design with the circular accents across the bumper area, and the headlight/taillight design. That's why some people assume that it is a VW Golf electric vehicle. Several of the VW ID concepts take on a similar feel.


2020 VW ID.3 Performance Specs
The 2020 VW ID.3 comes complete with three battery options: 45 kWh, 58 kWh and 77 kWh. With a 58-kWh battery, users receive the equivalent of 201 horsepower. The instant 229 lb-ft of torque is channeled to the rear wheels for maximum performance. These VW latest car models provide the acceleration and driving ability one would expect from finely-tuned German engineering. The electric battery is mounted in the floor giving the EV a low center of gravity which should translate into exceptional handling. The magnetic synchronous motor is mounted in the rear meaning that this electric vehicle will be RWD instead of FWD like many of the VWs we see here in the states.


2020 VW ID.3 EV Range
The VW ID in 2020 with a 45 kWh battery offers a 205-mile range. The 58 kWh battery produces a 261-mile range, while the 77 kWh is most impressive with a 341-mile range on a single charge. All ID.3 electric vehicles come with a battery warranty that offers protection for eight years or 100,000 miles.


Volkswagen ID.3 Interior
The cabin of the VW ID.3 truly stands out. It's completely high-tech and comes with a ten-inch touchscreen that is the focal point. Further additions include an augmented reality head-up display, voice-activated controls, and a wireless charging mat. Drivers also have access to 13.6 cubic feet of cargo room.


2020 VW ID.3 Safety
The 2020 Volkswagen ID.3 puts safety at the forefront of everything. The ID.3 comes with many advanced driver assistance technologies. These technologies include a front camera that identifies road signs, a rearview camera, an emergency braking system, lane-keeping assist, lane change assist, and pedestrian detection. Even the park distance control feature helps to prevent collisions by activating a braking maneuver when needed.


2020 VW ID.3 Reviews
There's been a lot of buzz about the 2020 VW ID.3. Motor1 says this model provides a "fresh visual identity." The Verge calls it the "electric car for the masses," while Car & Driver boasts about the large digital display and ample cargo space. Many critics of the e-Golf voiced concerns over a very limited range and hindered acceleration, where now the ID.3 steps in to silence those critics and grant their wishes.


VW ID.3 vs. VW e-Golf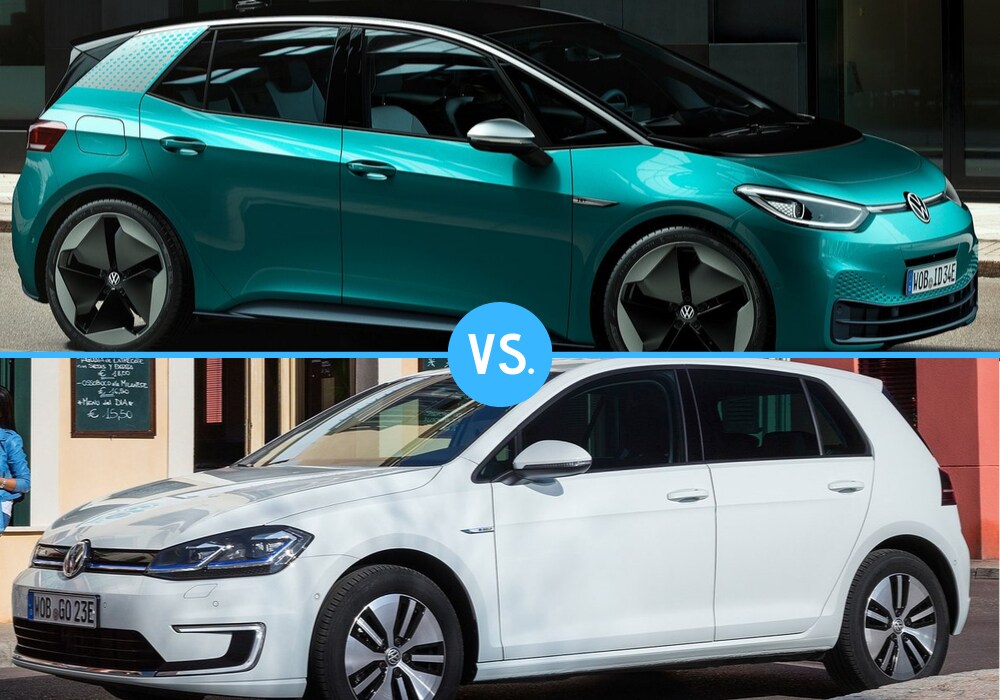 While there might not be a VW ID.3 released in the States yet, the e-Golf has plenty of fans. Among the 2019 electric vehicles, the e-Golf model provides a 125-mile range (EPA-estimated 119 MPGe) and charges at either a 120-volt or 240-volt outlet. The e-Golf electric engine pushes 134HP with 214 lb-ft. of torque. There are also two trim levels to choose from, so buyers have the option between the SE and SEL Premium e-Golfs. Both the ID.3 and e-Golf have similar exteriors, which is what leads to most confusion between the EVs. We see that the ID.3 has a longer range, more horsepower and slightly more torque than the e-Golf. 
The e-Golf is FWD where the ID.3 is RWD. The e-Golf had slight problems with traction because it carries most of the battery weight in the rear. The ID.3 looks to change that with better weight distribution across the whole EV giving it that low center of gravity pairing perfectly with a RWD setup. The MEB platform, which the ID.3 is built on, provides the option to put electric motors at either end of the car with the battery pack in the center floor. The weight distribution, traction and driving agility is said to be much better in the ID.3. For those of us in the States, we will have to either wait for an eventual release of the ID.3 or substitute our new VW EV cravings with the 2020 VW e-Golf.

View New Inventory